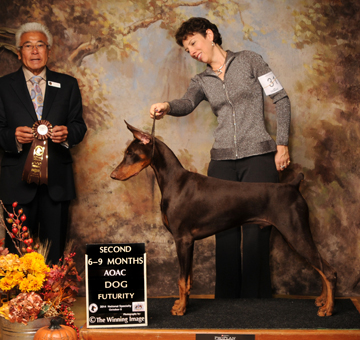 In his ring debut Major picked up his first point, followed by a reserve the following day! Two weeks later at the Doberman National, Major received the following honors:
Regional #1 6-9 mos Sweeps- 2nd of 12 (pictured above)
Regional #2 6-9 mos Sweeps- 2nd of 11
Regional #2 6-9 mos Regular Class- 4th of 12
Futurity 6-9 mos AOAC- 2nd of 10 (pictured right)
Major finished at 7 months of age with three majors. Not counting the Nationals, he went Winners Dog 6 out of the 9 times he set foot in the ring, picking up his last 5 points under breeder-judges Ann and Brad Dunn respectively.
Major is vWD Carrier, PDK4 (Meur's) DCM DNA Negative, Red #8 (carries dilution), with a correct mouth.
Major is owned by Lisa Baxter, Elesa Sanders, Nancy Raffa Sodel and Sue Skoglund. He was shown to his championship by Elizabeth Barrett.
FLASH! October 2014- Fresh on the heels of his success at the DPCA National, Major picks up a four point major at the Atlanta, GA shows at 7 months and 1 day! Two days later Major picks up a second four point major!
FLASH! November 2014- Major finishes his AKC Championship at 7 months with a third major!