Kaliber Dobermans
Home to the Highest Quality Doberman Pinschers
Our Girls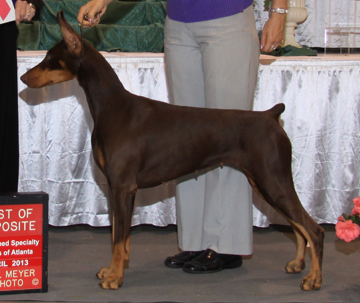 GCh Kaliber's Tennessee Waltz, CAA, CGC
"Page"
January 30, 2011
GCh Demira Far and Away of ADAMAS, CDX, RE, CA, ROM
x
Kaliber's Charismatic (AKC ptd)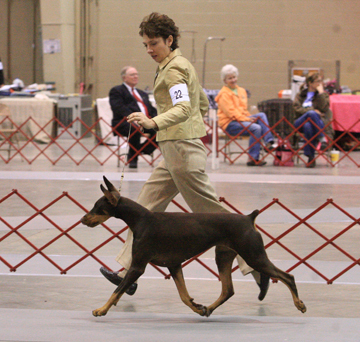 Page won her large 6-9 month AOAC bitch class at the 2011 DPCA National under breeder-judge Ray Carlisle. Page also won her class at the Regional show. She earned her 2nd and 3rd majors (5 pts and 4 pts respectively) under breeder-judges Judith Smith and Faye Haupt at the Hamilton, OH shows to finish her AKC Championship. Page was shown to her Championship and Grand Championship by Elizabeth Barrett. She is owned by Nancy Raffa-Sodel, and is a multiple champion producer.
Health Testing: Doberman DCM mutation DNA Negative, vWD Carrier, Holter Monitor 1 pvc's/24 hrs (Alba Medical, Dec 2015), Correct mouth, OFA Good, Thyroid low, Red #7 (no dilution).

Page lure coursing on her way to her CAA title...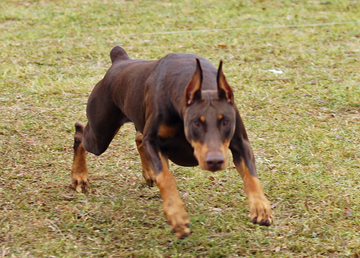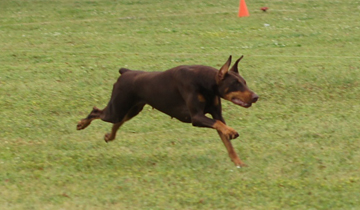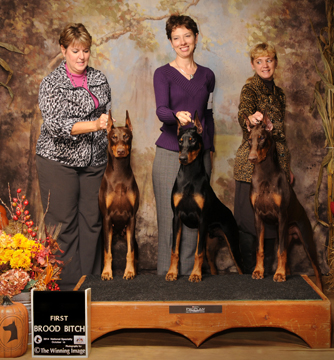 FLASH! October 2014- Page wins the 2014 DPCA National Brood Bitch class with her two 6 month old sons, Ch Kaliber's Casablanca and Ch Kaliber's Major League, standing with her!
---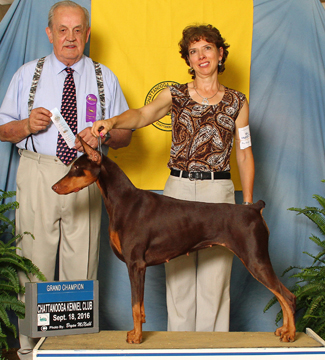 GCH Kaliber's Sound and the Fury
"Caddy"
Whelped March 16, 2014
CH Cambria's Out for Justice
X
GCH Kaliber's Tennessee Waltz CAA, CGC
Caddy finished her AKC championship with four major wins,
and earned her Grand Championship with seven major wins!
Caddy is owned by Zack Eastman, Nancy Raffa Sodel and Sue Skoglund.
She was shown by Elizabeth Barrett.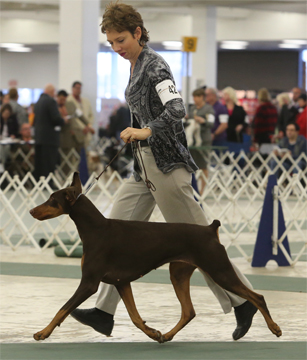 FLASH! Feb 2016- Caddy earns the first major towards her championship!
FLASH! April 2016- Caddy picks up two more points, going Winners at the DPC Charlotte specialty!
FLASH! April 2016- The following weekend, Caddy picks up her second major win! Five singles to go!
FLASH! June 2016- Caddy picks up a three-point major, followed with next day with a five-point major to finish her AKC championship!
FLASH! September 2016- Caddy earns her AKC Grand Championship!
---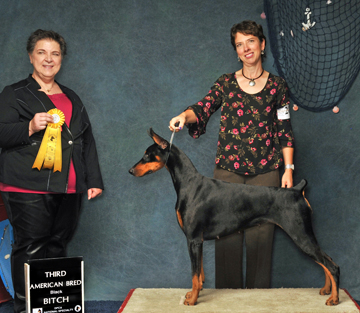 Kaliber's Over the Moon (AKC major ptd)
"Stella"
Whelped Sept 29, 2015
By GCH Alpha's The Conquistador RA
X
GCH Kaliber's Tennessee Waltz CAA, CGC

Stella has only been shown sporadically while she matures. She placed in all but one of her classes at the 2016 DPCA Regional and National show, was reserve to a 5 point major at the highly competitive January Florida circuit shows, and placed in all three of her classes at the 2017 DPCA Regional and National show.
Stella is owned by Nancy Sodel and presented by Elizabeth Barrett.
FLASH! August 2017- At the Greensboro, NC shows, Stella takes WB for a 4 point major!
---