Kaliber Dobermans
Home to the Highest Quality Doberman Pinschers
About Us
Having owned Dobermans for several years prior, we acquired our first show quality Doberman in 1994. With the help of fellow exhibitors to mentor us, we learned the ropes - from what it takes to breed quality dogs, training a competitor, health, analyzing pedigrees, structure and movement, and so much more. Our earnestness to listen and learn (which we still do everyday), and willingness to invest in a quality foundation allowed us to breed not only a Best In Show dog, but a Doberman Pinscher Club of America National Specialty Winners Dog and Winners Bitch. More importantly, the mental and physical soundness of our dogs have allowed them to make their marks in several different ways besides conformation- from performance venues such as obedience, agility and tracking, to being in the service of mankind through assistance and therapy work.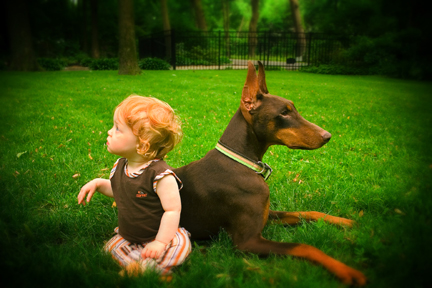 Breeding an average of only once every year or two, we believe that your commitment to purchase a Doberman is for the LIFE of that Doberman. To that end we spend an inordinate amount of time screening prospective homes- turning down far more than we accept. To repay the Breed for all that it has given to us, we also participate in Doberman rescue- helping Dobermans which had the misfortunate of being brought into the world by irresponsible breeders, only to be sold to irresponsible owners. Education of both current and prospective Doberman owners is the key to ending the need for rescue services, and we are always working towards that end.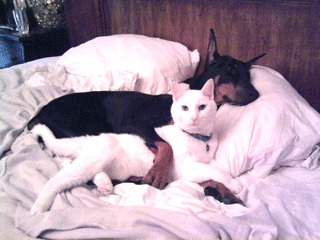 We are always available to aid people with problems and/or questions about this wonderful breed. If we cannot answer your questions, then through our network of connections we can help you find the information you need.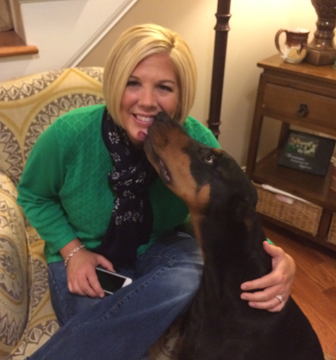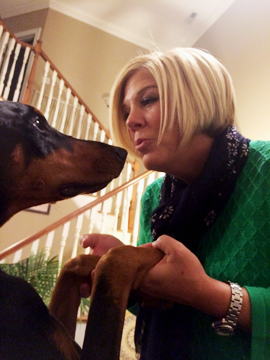 "I, for one, am so grateful for all your work. Honestly, I don't think there is a better pup out there then Jude (I'm biased of course), but what I know for sure is that he was raised with love and the right blend of discipline. I have no doubt your babies that follow will be as well mannered and sweet as Jude. You guys rock. Keep it up please. Such a great service to this incredible breed."
- Lisa Conner